Bereavement is undoubtedly painful, and our 5 year death anniversary quotes are suitable for articulating your sorrow. Do it in a heartfelt manner with these quotes.
Losing a beloved person is a massive shock. It often causes an upheaval in our lives. Indeed, the initial shock and pain subsides with time, but the sorrow lingers for a long time.
It is impossible to obliterate the memory of our beloved people after their death. But words often help us when we tend to articulate our grief. Remembering this, we have created 5 year death nniversary quotes to help you remember the people who have left this world.
It is challenging enough to deal with this pain, but through our quotes, we offer some solace for you and peace for the departed soul. Do not forget to browse our death anniversary quotes collection. We are sure our message will resonate with your feelings.
Remembering Departed Relatives With 5 Year Death Anniversary Quotes
1. Years have passed, and now your presence is difficult to find. But the memories of our time together are still fresh in my mind. Five years is a long time, but still, I cannot help myself to rewind.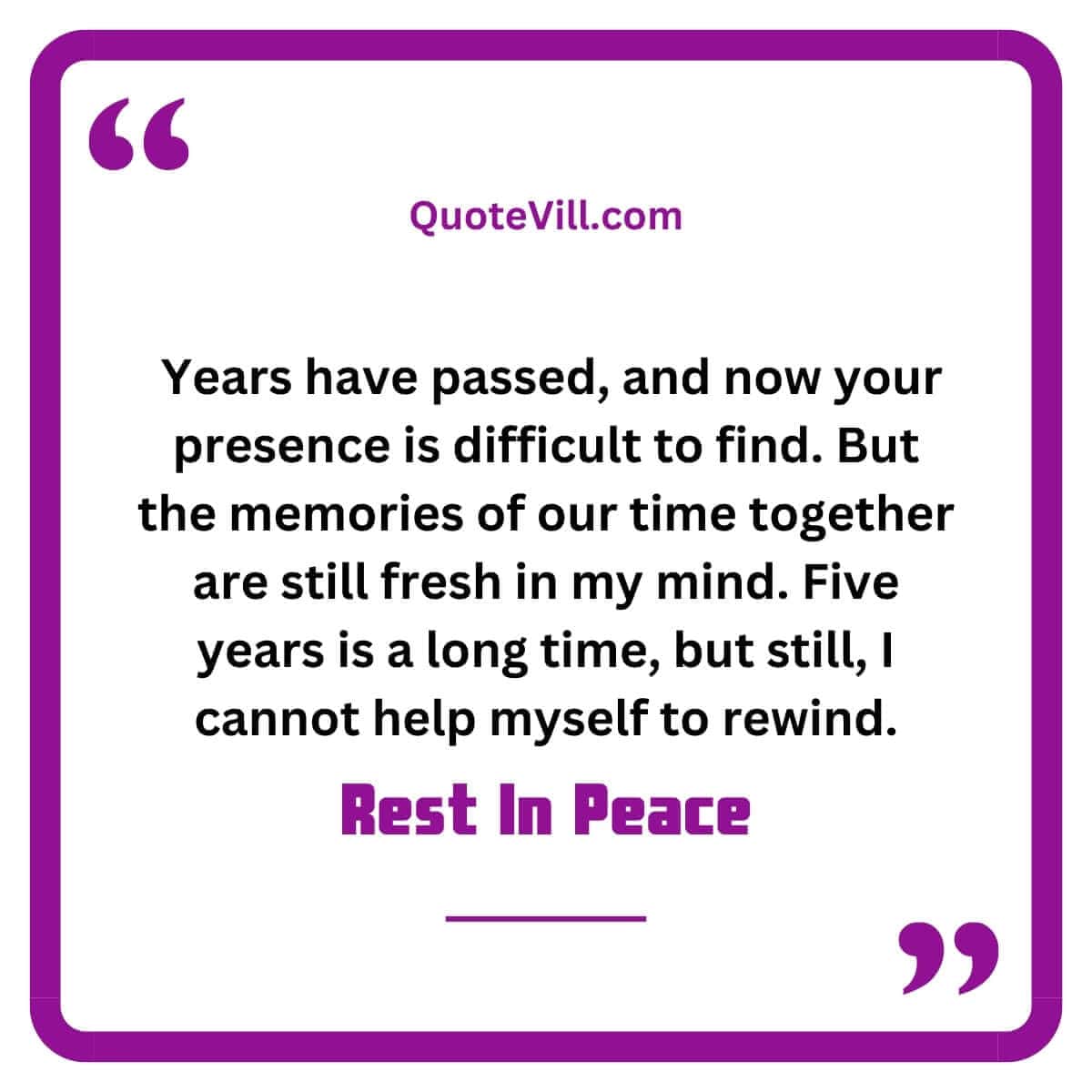 2. Five years have passed since your demise, and I am still here, picking up each broken piece. But I pray to God that your soul attains eternal peace.
3. It feels so surreal to believe the fact that you are no more. Life was so better with you before. But now it has become a barren shore.
4. It has been five years, but I miss you more than I can express. God works in mysterious ways to depress. But I can't fathom how taking you away was for the best. Whatever it is, I hope now you are taking a rest.
5. Five years ago, you left this world for God's heavenly abode. I am here to ponder upon the past and silently mope. The future we imagined together will come in our afterlife, I hope.
6. There is nothing more precious than the moments that I have spent with you and for five years these memorable moments have been my companion in your absence. May you rest in peace.
7. Counting the years now seems futile because your demise has made a crater in my life. I pray that you find eternal peace in the afterlife.
8. Days have turned into years now, and five years is indeed a long time, but the memory of your departure sometimes still haunts my mind. I pray that in your afterlife, love becomes an easy find.
9. Time heals all wounds, and I believe this is true because when you died 5 years ago, I felt my world crumble around me. But with time, that wound healed because I have found your soul in your beloved mango tree.
10. Five years have passed, and I tried my best to move on. On your death anniversary, I promise to keep living my life to the fullest because I know you are watching me from above, and I am not alone.
See: 10 Year Death Anniversary Quotes
The Poetic and Painful 5 Year Death Anniversary Quotes
1. The pain of loss may lessen with time, but the love we feel only grows stronger. On this fifth death anniversary, we remember and celebrate that golden time we spent together.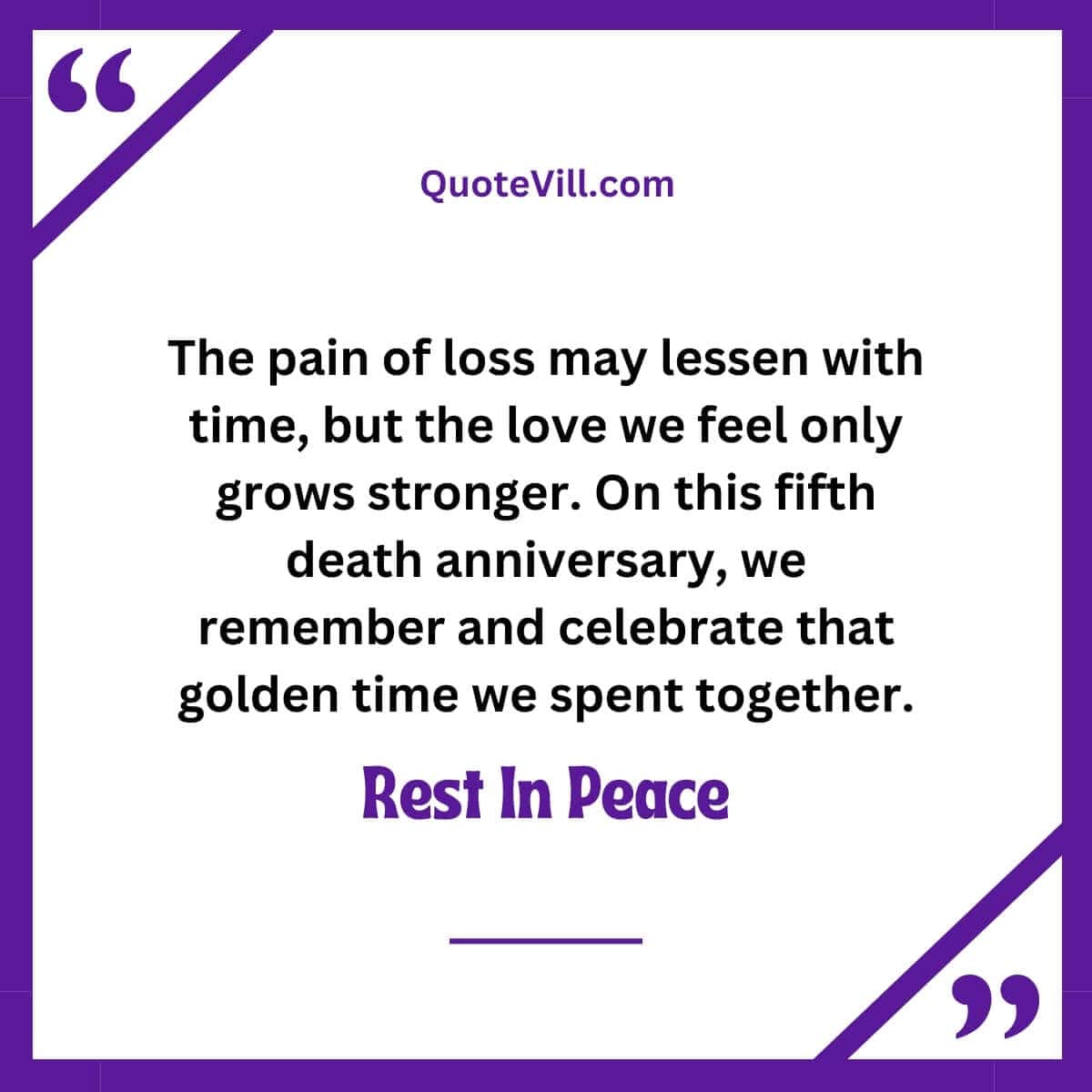 2. In your loving memory, we light a candle to honor the love and warmth you brought into our lives because your presence will help us to survive.
3. On the fifth anniversary of your departure, we bow down in respect while being caught in the flow of emotions where grief and gratitude intersect.
4. The cycle of life continues its relentless journey, and we pretend to be happy. But your name and memory ache in our hearts. Each year's passing may soften the edges of the sorrow, but it still hurts.
5. The pain of losing you will never fade, even with the passing of each decade. Our love for you remains unwavering. While in our hearts, you keep lingering.
6. The stars above us remind us of your love and warmth during our distress. Even today, you guide us through challenging times of darkness.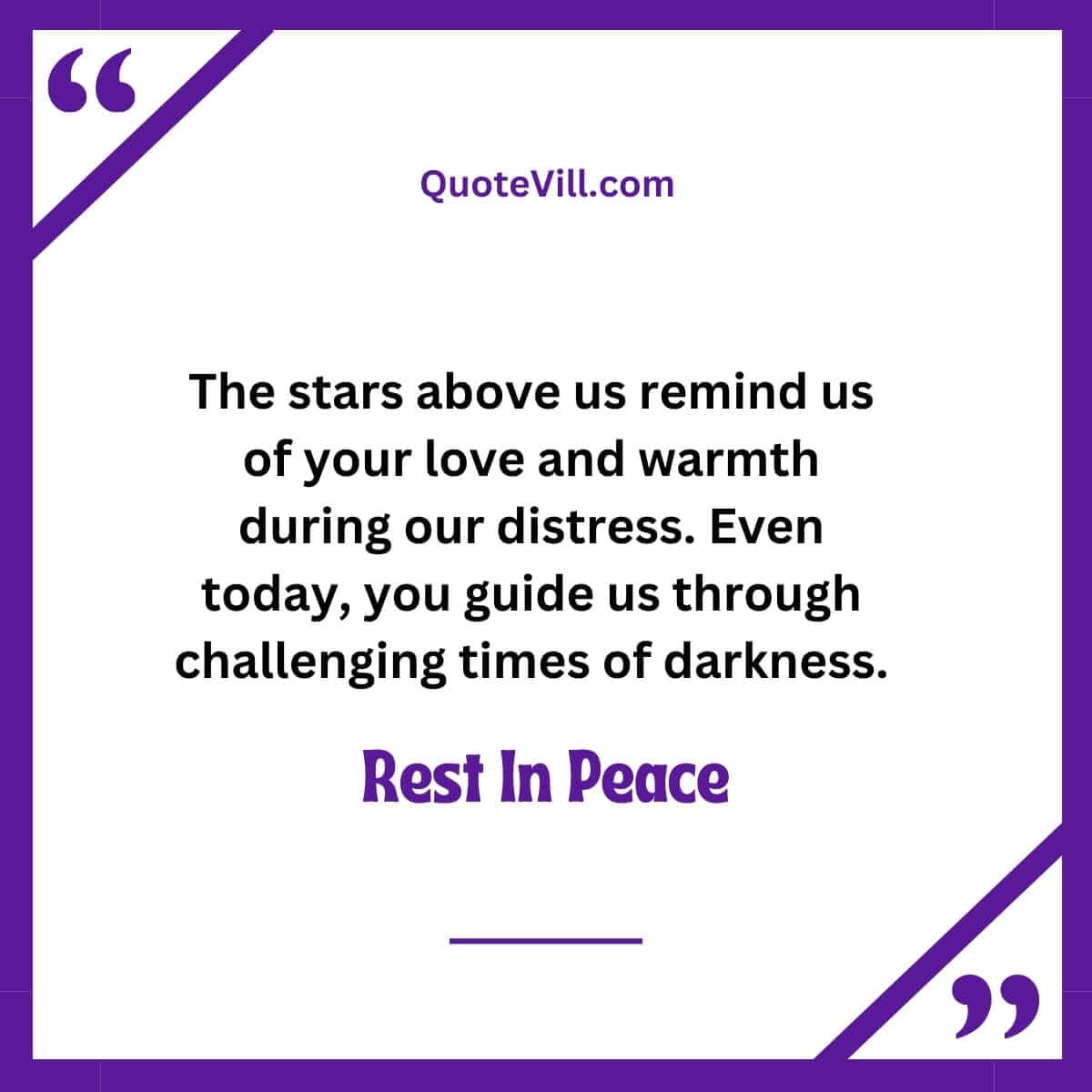 7. It has been five years, but you still blaze as bright as fire in our hearts. Your presence is missed daily, but your memories comfort us.
8. On the fifth anniversary of your journey beyond, let me honor the memories we shared together. You are gone but never forgotten, dear.
9. In remembrance of the fifth anniversary of your passing, we find strength in the lessons you taught while showering love upon us. The sorrow may lessen over the years, but the values you imparted will remain in our hearts.
10. Five years may have gone, but let us gather to celebrate your life, finding solace in the legacy of love and morals you left behind.
See More: 2 Year Death Anniversary Quotes
Words Of Comfort Conveyed Through 5 Year Death Anniversary Quotes
1. Even after five years, I would say your presence has gone, but your memory will always be there, even if we move on. Miss seeing your love for popcorn.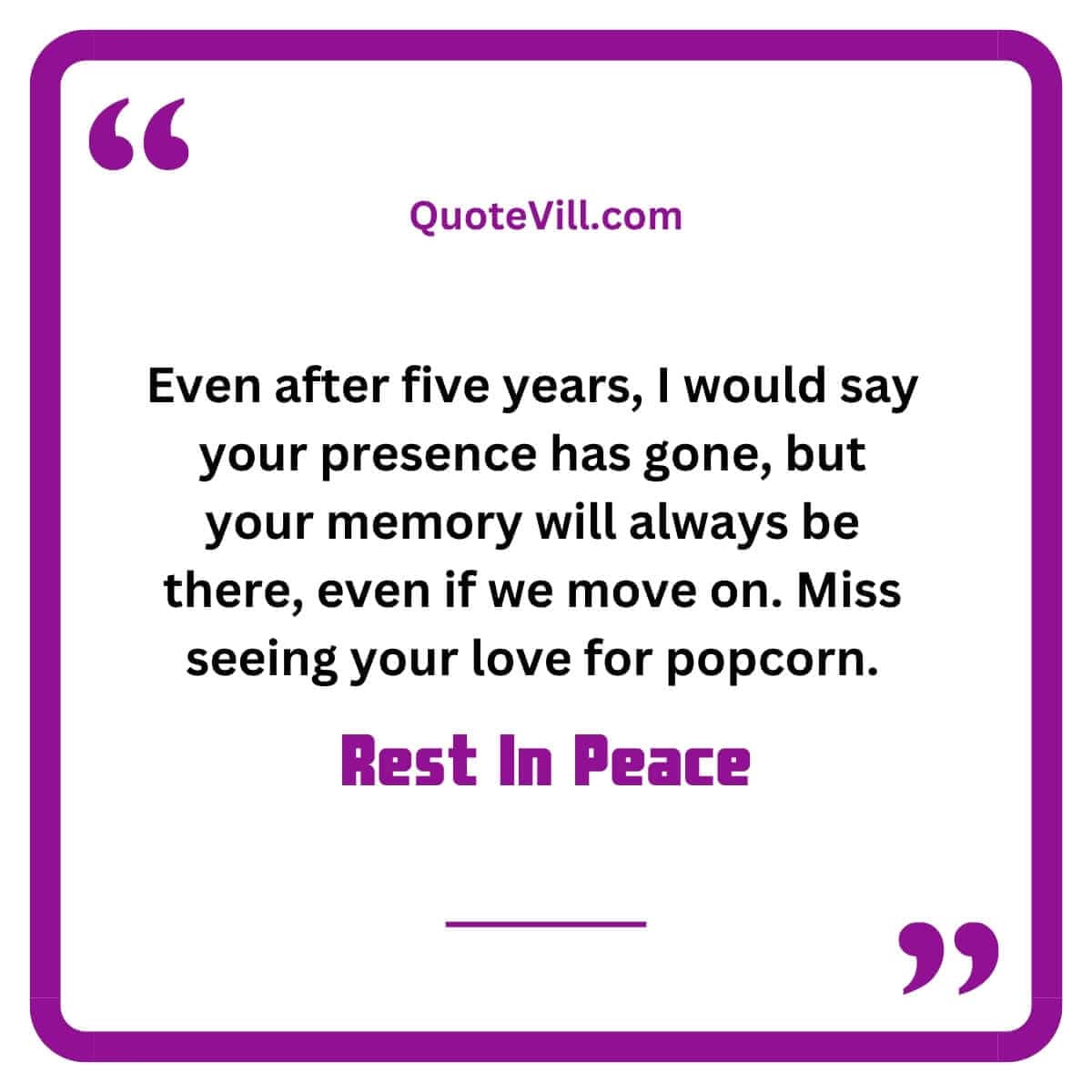 2. I always believe that our loved ones never leave us in the middle of our way. They walk alongside us each day. Yes, they are unseen and unheard, but they are near us in every way.
3. Our heart, which genuinely loves our near and dear ones, can never forget them. When our loved ones become a memory, they become a precious gem.
4. The person for whom we care about the most never dies. They continue to live on through the kindness and love they brought into our lives as a form of a prize.
5. You should know that the stars, the sun, the moon, and the wind constantly remind me of your love even after 5 years of your departure. You were my savior.
6. My love for you has not died with your death. Love is like liquid filling up the empty spaces of our hearts and becoming our strength.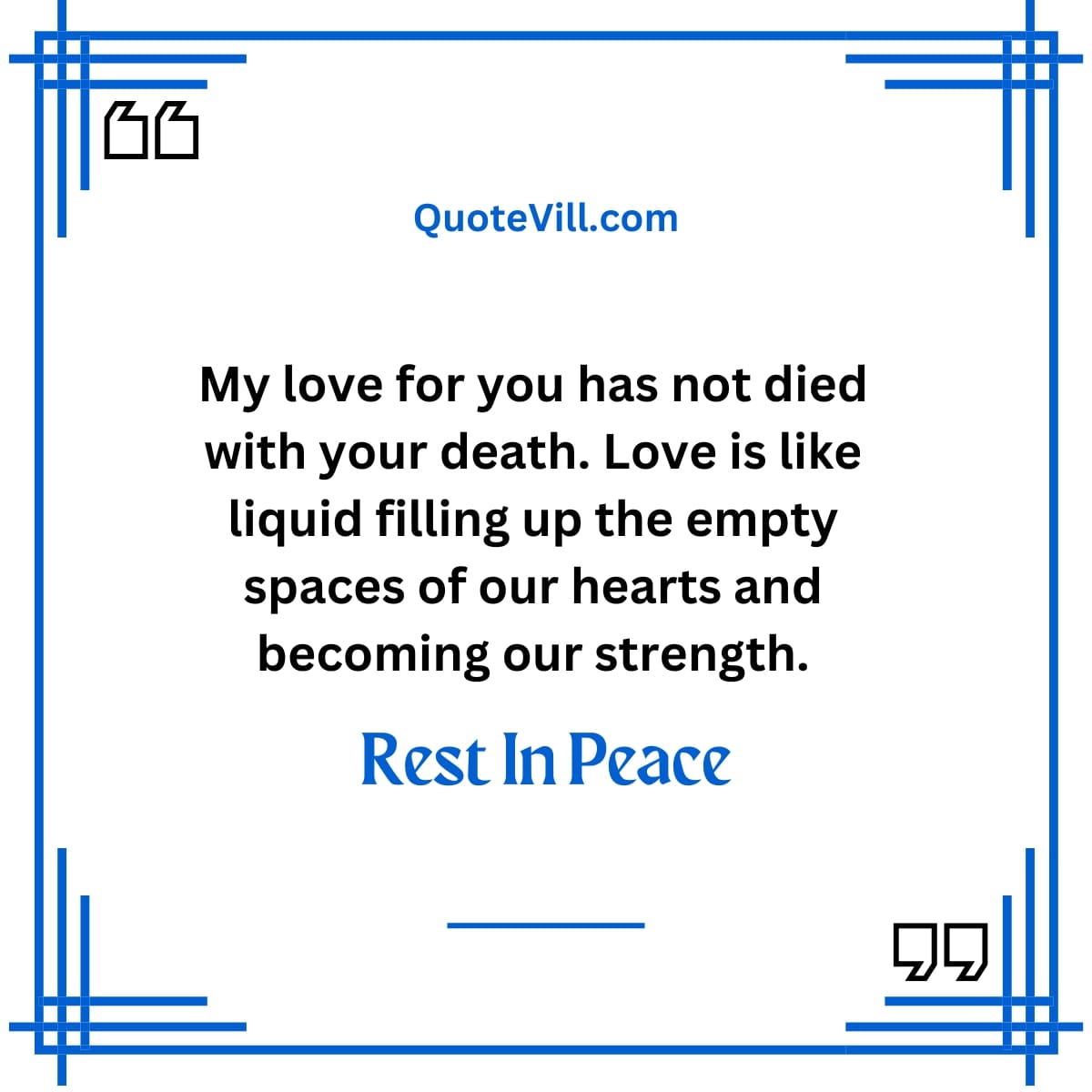 7. It is rightly said that death ends a life but not a relationship. I always feel that the greatest tribute we can give the dead person is our gratitude, not grief.
8. Five years have passed since you have left us without making any fuss. I know the pain of our grief will lessen with time. But the memories of the love we shared will not fade anytime.
9. The death anniversary is the time to honor the memories of our lost loved ones. It is also the time to find comfort in the love they left behind in tons.
10. Our loved ones may not be physically present with us, but their impact on our lives will always remain. Let us celebrate the life and legacy of our loved ones, keeping aside the pain.
Related: