Even when the people you care for are far from you, their birthday wishes bring you closer to them. Express your gratitude with heart-touching thank you messages for the birthday.
Birthdays are all about feeling special. After 12, when the phone buzzes with message alerts, it feels nice, warm, and fuzzy. What do you think?
Reading birthday messages can be an emotional rollercoaster. While some will make you cry tears of joy, others might make you look like the LOL emoji. But the one thing all of them will have in common is the love and support your loved ones will have for you.
Now that your eyes are glimmering with happiness after receiving the birthday messages, it's time for you to send back some of the love from your side.
Here are some thank you messages for the birthday to choose from. Though you can copy-paste these messages, you may give them your personal touch by adding a few lines of your choice.
How Do I Write A Thank You Message For My Birthday?
A sincere thank you note is the perfect way to show my appreciation. I'm going to try to personalize each one and share what I loved about their gift or message.If you're wondering where to start,here are some tips to help you write heartfelt thank you notes that show your appreciation:
Genuine Expression: Start by genuinely expressing your gratitude. Let them know how their message made you feel.
Specific Mention: Refer to a specific part of their wish or gift that stood out or touched you the most. This personal touch shows you truly value their gesture.
Casual Tone: Use a conversational tone, as if you're speaking face-to-face. This makes the thank you feel more personal and warm.
Reconnect: If someone you haven't spoken to in a while sends a wish, use your thank you message as an opportunity to reconnect.
Simplicity: Sometimes, less is more. A simple and heartfelt "Thank you so much!" can convey all the gratitude you feel.
Future Plans: Mention looking forward to meeting them or catching up soon. This extends the warmth beyond just the thank you.
Close Warmly: End with a warm sign-off, like "Much love," "Warm regards," or "With gratitude," to wrap up your message cozily.
Remember, every message you received on your birthday carried a piece of someone's heart. Your "thank you" is your way of sending a piece of yours back. Happy thanking
Short Thank You Messages For The Birthday
1. I am blessed to have you because you always pull me in a warm embrace whenever I feel the cold. I cannot thank you enough for the love that your birthday messages hold.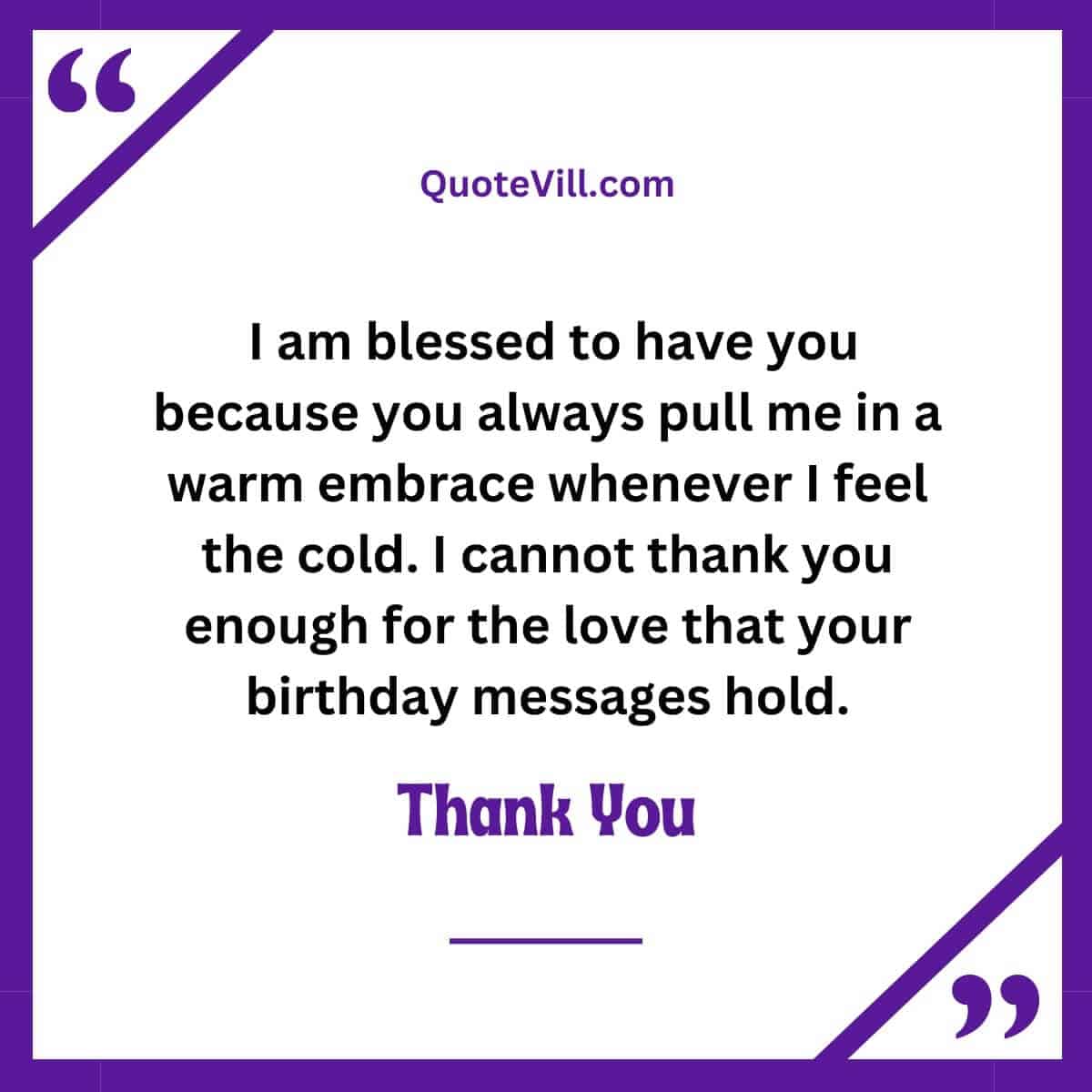 2. Thank you for making my birthday special with your sweet words of affection and appreciation. They will always stay in my heart to make me feel loved and give inspiration.
3. Thank you for the lovely birthday message decorated with a beautiful work of art. It touched my heart. Reading the birthday messages from my loved ones on my special day is the most cherished part.
4. No thank you note can perfectly express my gratitude for the love I received through the birthday wishes. I am grateful to have you in my life because you bring a smile to my face with your messages.
5. Although my special day is almost over, the sweet words I received as birthday messages will stay with me forever. Thank you for your kind words on my birthday, dear.
6. Your words make me feel cherished and keep the worries and sadness away. Thank you for the love I received through your birthday messages today.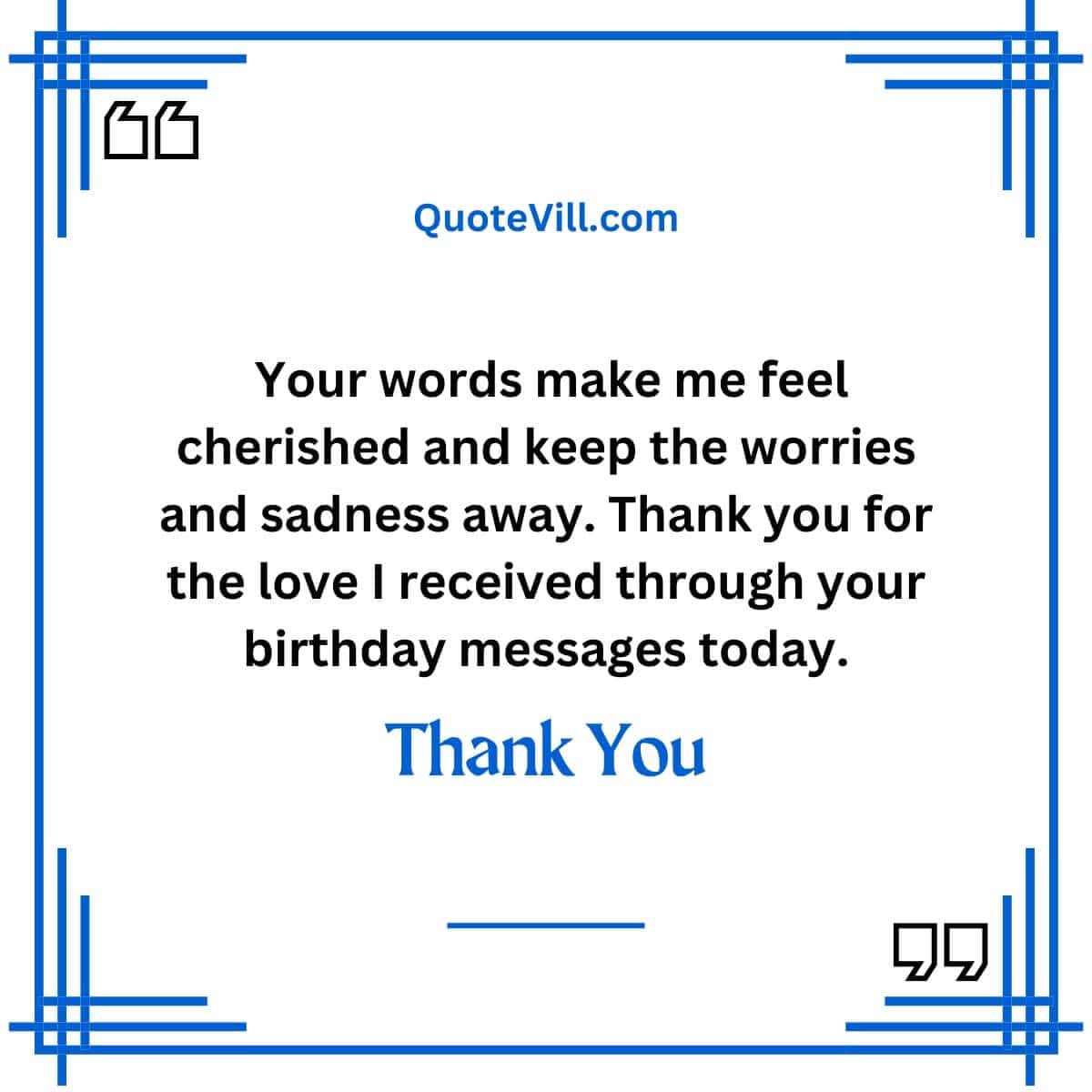 7. Thanks, buddies, for congratulating me on my birthday and adding to the best part of my memories. After reading your messages, I can confirm that you will never let me cry in peace.
8. Thank you, Grandma and Grandpa, for the birthday message that carried your love and blessing. Your inspiring words were the most precious gift that I had this evening.
9. Thank you, bestie, for reminding me about treats while dropping a birthday wish. No worries, let's meet soon and bicker about meaningless things while devouring your favorite dish.
10. Thanks, pals, for texting me a sweet, emotional wish. I was so excited and happy that I forgot I had a crucial meeting that I could not miss. But receiving your message was bliss.
11. Hey friend! Your birthday message was the cherry on top of an already sweet day. I loved it! Thanks for always knowing how to make me smile. Cheers to you!
12. Seeing your name pop up on my phone instantly brightened my day. Your thoughtful words mean so much to me. Thank you for spreading joy on my birthday!
13. You know I don't need any gifts when I have amazing people like you in my life. Your heartfelt message touched me deeply. Thank you for making my birthday extra special!
14. I just knew you'd come through with a hilarious birthday wish to make me laugh. You never fail to crack me up and lift my spirits. My day is better thanks to you!
15. Every year, I look forward to your quirky birthday wishes. And like always, you didn't disappoint. Thanks for adding that special touch to my day!
Read: 60 Birthday Prayers for Myself: Seeking Gratitude To The Almighty
Heart-Felt Thank You Notes For The Birthday
1. Thank you, love, for wishing me on my special day and promising that you will be there for me forever. Your words made my birthday one of the best days to remember.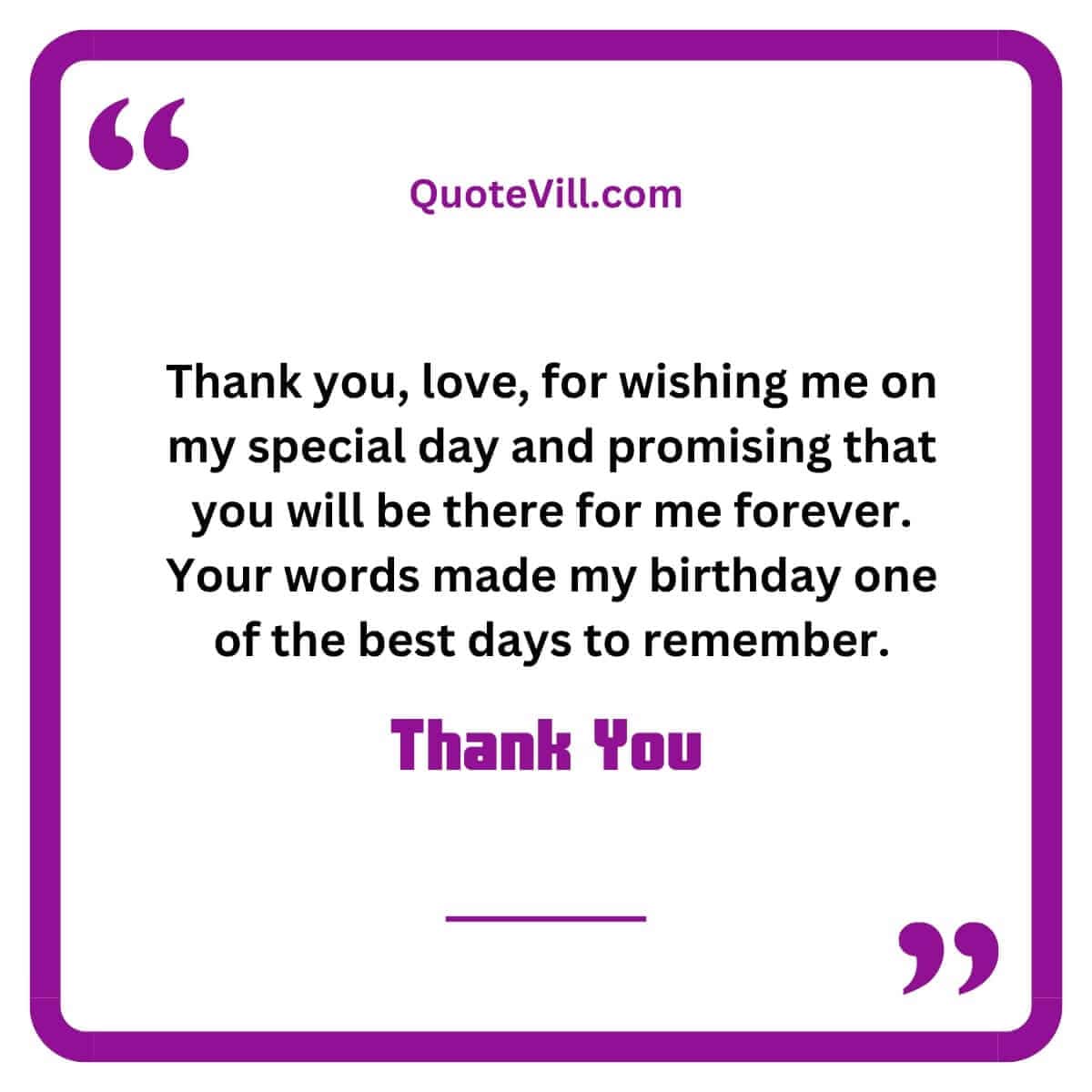 2. Though you are away from me, your birthday wish dropped like a hug I craved for. Thank you for wishing me and being there for me like my savior.
3. I would love to have you with me on my birthday to celebrate the day with us together. Thank you for your birthday blessing, which gave me the comfort of your presence, even though you were not near.
4. Thank you for your words on my birthday to remind me that I have people to support me. I feel blessed to have you in my life and value you dearly.
5. My birthday came bearing heartfelt messages from all of you, which drowned me in happiness. Thank you, everyone, for making my day special and bringing a big smile to this grumpy face.
6. I feel so loved while going through your birthday messages that echo your affection in every word. Thank you for letting me experience what it means to be lucky in this world.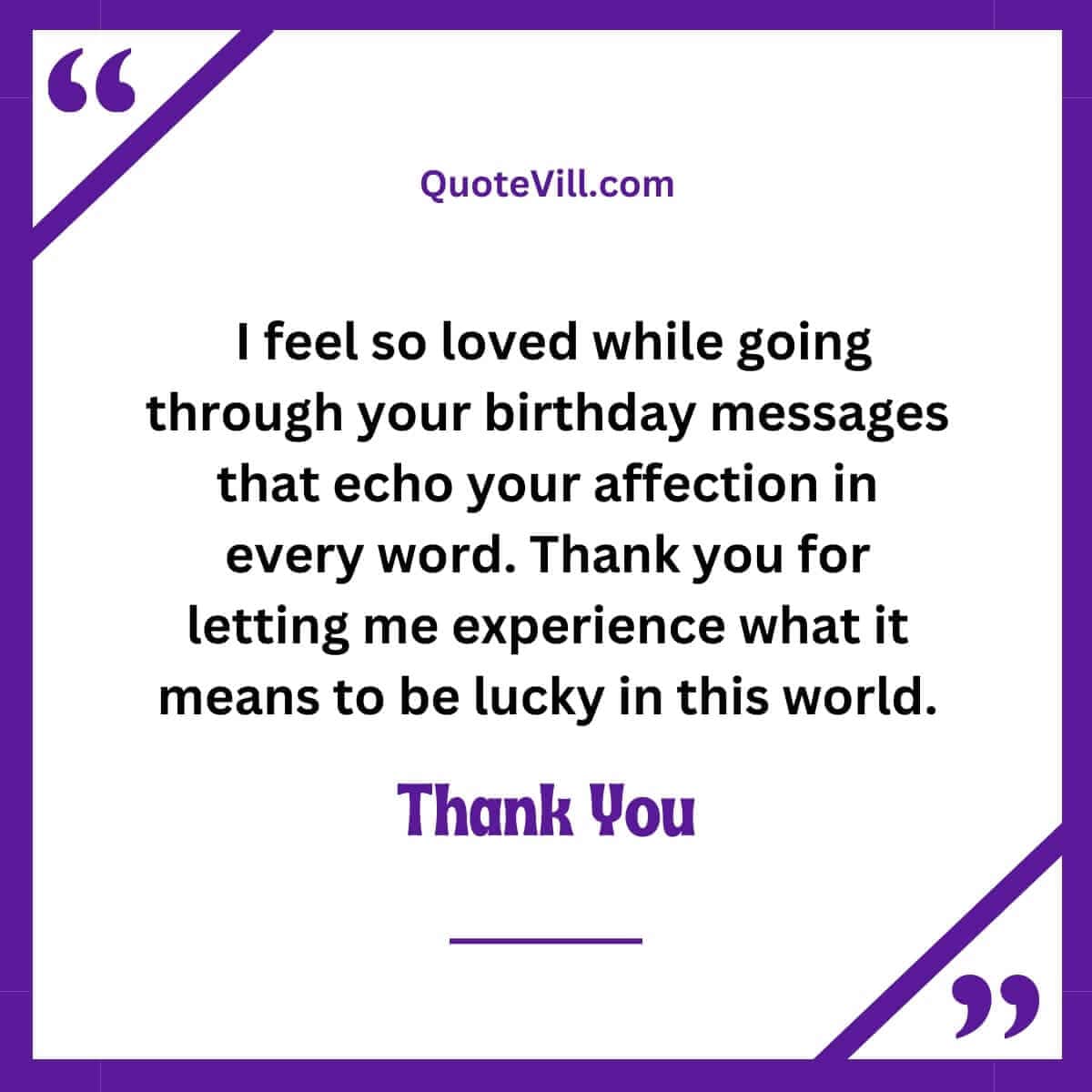 7. Sometimes, I wonder how I turned out to be this lucky to have so many people to stay by me. Thank you for your kind words that made my day special, and I went to sleep peacefully.
8. I was always motivated to work with such a dedicated team. But receiving a birthday wish from you seems much like a dream. Thank you for everything. It was indeed mindblowing.
9. The best part of my birthday is the sweet words and blessings I received from you all. Thank you for giving me the courage to face the world while standing tall.
10. Thank you, dear, for the sweet and lovely words you sent my way on my birthday. They held the sweetness of your smile and affection of your heart and expressed your love as you do it to me each day.
11. Your birthday wishes hit me right in the feels. It's amazing how a few words from you can make my whole day. Thanks for that touch of magic.
12. You know, there's something about your messages. They're like that warm cup of cocoa on a rainy day. Thanks for the comfort you sent my way this birthday.
13. Another year, another bunch of memories. But the wishes you send? They're the kind that stick around, cheering me up on gloomy days. Big thanks for lighting up this one!
14. Who would've thought that a simple message could mean so much? Your birthday greetings were like a friend's comforting hand on my shoulder. Thanks for the boost and for always having my back.
15. Even with all the cake and candles, your thoughtful birthday message stood out as the highlight of my day. Thank you for taking the time to send such kind words – they really made me feel special. I appreciate you!
See More: 39 Blessed to See Another Year Quotes
Thank You, Messages, For Birthdays
1. I'm so grateful you could be a part of my special day. I hope you'll always be here in every possible way. Thank you for your birthday wishes. It is something that someone like you never misses.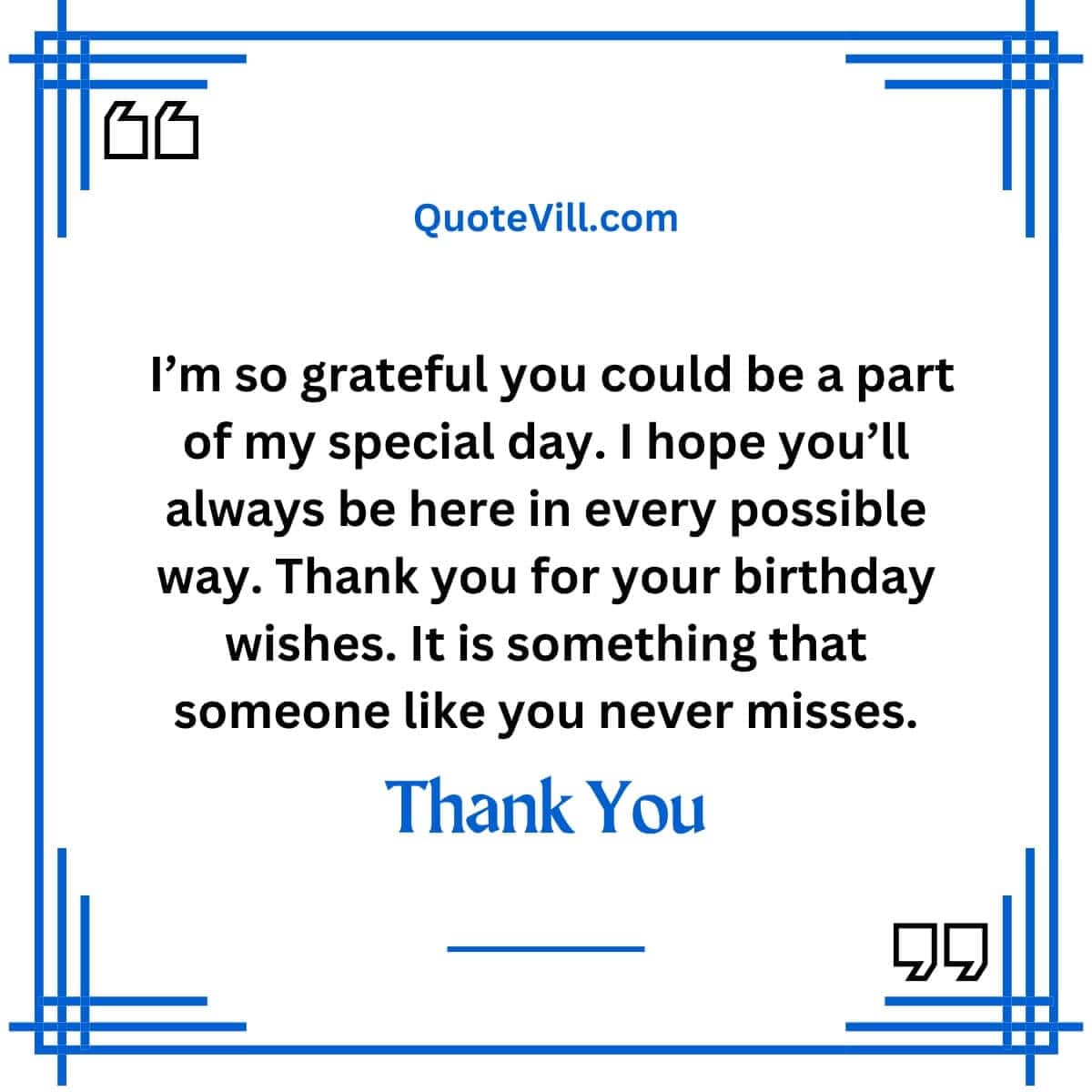 2. My special day became even more special because of you. You know I do not have a lot of friends, only a few. I am speechless now and don't know how to thank you.
3. I felt like dancing when I received your wishes. I forget the pain I had after washing so many extra dishes. Thank you very much for your messages and wishes.
4. No other gift is as valuable as the love and support of the dear ones. Let's enjoy many more birthdays with many more dances and songs. Thank you for becoming a part of my birthday. Your presence made it a special day.
5. All your wishes mean so much to me. Without your messages, my birthday wouldn't have been complete, you see. Thank you so much, my dear friends, because, without you all, I wouldn't have spent the day so happily.
6. What touched me was your love and birthday blessings. Let's enjoy many more birthday treats with delicious dressings. All of my thanks to you, my dear people. Your efforts are genuinely admirable.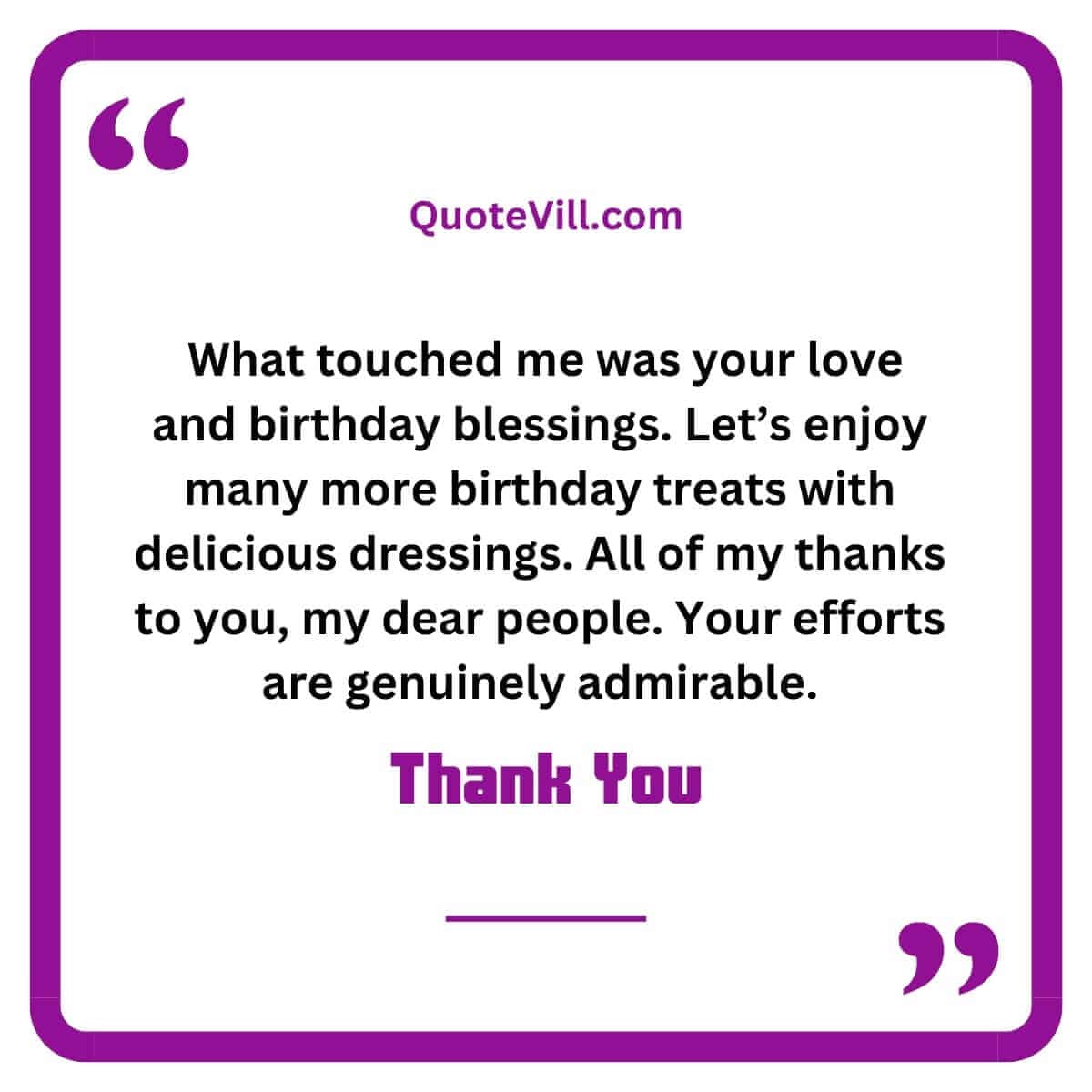 7. I appreciate all your birthday greetings on this day, guys. I hope you people are always with me and I never have to bid you goodbye. Thank you, dear ones, your messages were my best surprise.
8. I promise, even though there were so many birthday wishes, I read them all. These wishes made my heart warm like fall. Thank you, guys, for making my birthday special.
9. This birthday has been overwhelming, to be honest. But these memories will be the fondest. Thank you all for being my guest. You guys are indeed the best.
10. Nothing would have prepared me for all these wishes and love. Thank you all, and I promise I'll give you a good treat and not let any of you guys starve.
11. Hey friend! You totally made my birthday feel like a party. Your thoughtful wishes just warmed my heart. Let's keep these good vibes going!
12. Even with all the notifications on my phone, your message stood out bright and clear. It made me laugh, tear up, and do a happy dance – all at once! Thanks for sprinkling a little extra birthday magic.
13. Your message was like an unexpected extra scoop of ice cream – totally delightful and super sweet! I appreciate you adding that special flavor to my day.
14. Birthdays make me reflect on time flying by and blessings like you in my life. Your wishes were the cherry on top of a perfect day. Big thanks!
15. Every year I think my birthday can't get better, but then I get your message and – boom! – it's taken to a whole new level. Thank you for always making me feel extra special!
Emotional Thank You Message For Birthday Wishes
1. You all totally made my birthday so special! Your messages filled me with love and gratitude. I'm lucky to be surrounded by such thoughtful people.
2. I used to think my birthday ended when the candles went out. But your sweet messages kept the celebration going and made me feel like a star! Thanks for spreading the birthday love.
3. Your messages wrapped around me like a warm cozy blanket. I'm so thankful to have caring friends like you in my corner.
4. Just a few kind words can really turn someone's day around. Your wishes had me grinning ear to ear! I feel so loved thanks to you.
5. To everyone who took a minute to reach out—you gave me a huge happiness boost! I'm so grateful you thought of me on my special day.
6. Whether we talk often or rarely, your messages reminded me of our special bonds. I'm so touched you made time for me!
7. Who needs treasures when I have priceless birthday wishes from all of you? I'm rich in friendships today!
8. Life is busy and we lose touch sometimes. But your messages made me feel our connection. Thanks for taking the time!
9. To the one who's quietly but constantly there—your surprise message meant so much! It truly stood out.
10. To my work fam— it's one thing to share a workspace, but another to share warm moments like this. Your wishes were the icing on my cake! Here's to more good times ahead!
Thank You Reply For Birthday Wishes
1. Hey there! Your message totally brightened my day. How do you always know just what to say? Thanks for the love! 😊
2. You and your perfect timing! Just as I was making a birthday wish, your message popped up. Thanks for adding to the magic. 🎉
3. Every year, your birthday wishes are like the cozy blanket on a chilly night. Thanks for wrapping me in your warmth once again. ❤️
4. Seriously, how do you manage to top your previous wishes every year? Thanks for making me feel extra special with your words.
5. Between the cake, candles, and confetti, it was your message that made me go "aww." Heartfelt thanks for the birthday love!
6. It's funny how texts are just words on a screen, yet yours felt like a big bear hug. Thanks for sending those good vibes my way.
7. I've got a ton of notifications today, but trust me, yours was the one I was secretly waiting for! Thanks for not disappointing. 😉
8. Some people just have a way with words, and you're one of them. Your birthday wish was both sweet and deep. Thanks for the feels!
9. You know, birthdays come every year, but friends like you come once in a lifetime. Thank you for your heartwarming wish.
10. Birthdays remind me of two things: how quickly time flies and how awesome my friends are. Thanks for dropping by with your lovely message! 🎂🥳