Treating someone to a delicious lunch is a simple way of expressing love. If you have received such a treat and want to show gratitude, here are some sincere and sweet quotes on Ways to Say Thank You For Lunch.
Our fast-paced life often holds us back from enjoying small moments of joy and being thankful for that happiness. It may be your family, friends, or office colleagues.
A lunch invitation carries the warmth of the host, and it also provides you with the chance to strengthen your bond.
Hence, acknowledge their kindness and express gratitude with simple but sincere Thank you For Lunch quotes.
In many countries, the culinary culture involves thanking the person who prepared the food before the invitees dig in. People believe that it strengthens a bond.
So, share the smile on your lips after you taste the delicious meal with the person who made it for you by sending them these Thank you For Lunch quotes.
If you are looking for perfect words to thank someone close to you for treating you to lunch, here are some quotes on ways to say Thank you For Lunch. You can use these quotes or take them for inspiration to write your own thank you messages. Your genuine appreciation for their effort will bring a smile to their face.
Tips On Writing A Thank You Note For Lunch
Start with a warm greeting: Begin your note with a friendly greeting to set the tone.
Express your gratitude directly: Start off by directly saying thank you. For example, "I wanted to say thank you for the wonderful lunch…".
Be specific and personal: Mention something specific about the lunch or your conversation that you appreciated. It could be the food, the place, or a particular topic you discussed.
State the impact or value: Talk about why the lunch was significant. For example, did it brighten your day? Did it give you new ideas? Was it a much-needed break? Express that.
End on a positive note: Conclude the note with a positive sentiment. This could be well-wishes, looking forward to meeting again, or just a simple "thank you" once more.
Keep it short and sweet: Your thank you note doesn't need to be long. A few well-written sentences that express your genuine gratitude are enough.
Unique Ways To Say Thank You For Lunch
1. "You managed to turn an ordinary lunch into a bundle of joy today. It wasn't just food for the body, but nourishment for my heart too. I truly appreciate it."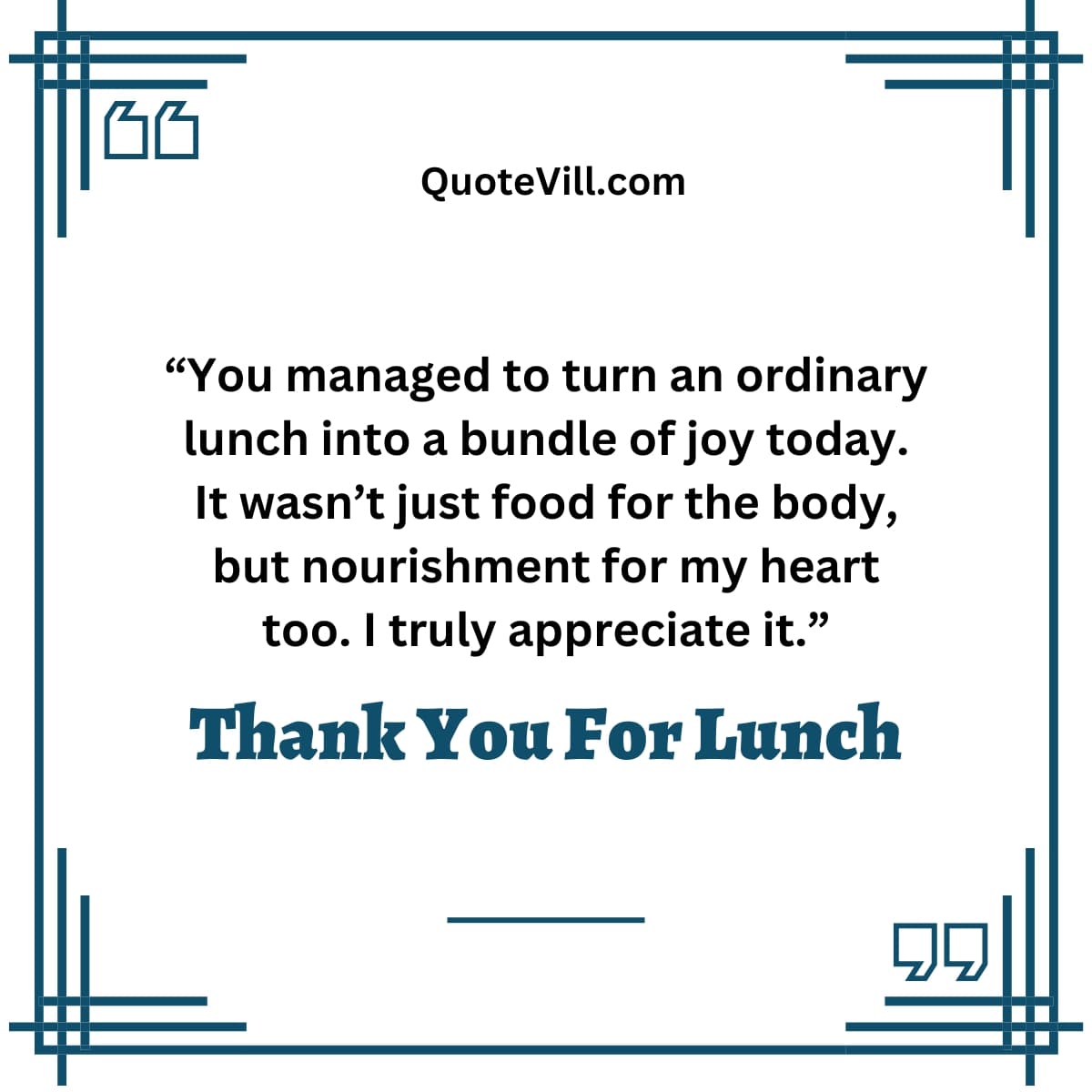 2. "Your effort transformed a straightforward meal into a delightful banquet. Your care didn't go unnoticed, and I'm deeply grateful for it."
3. "It wasn't merely a meal, but a memorable experience. It wasn't just food, but a token of your concern. Thanks for turning an ordinary day into a special one."
4. "Your 'just a lunch' became a standard setter. Your consideration was the perfect spice, and I'm extremely grateful for your benevolence."
5. "Dining with you feels like opening a present. It's not solely about the food, but the thoughtfulness, affection, and dedication you put into it. Thank you for devoting your time to make such a pleasant noon surprise."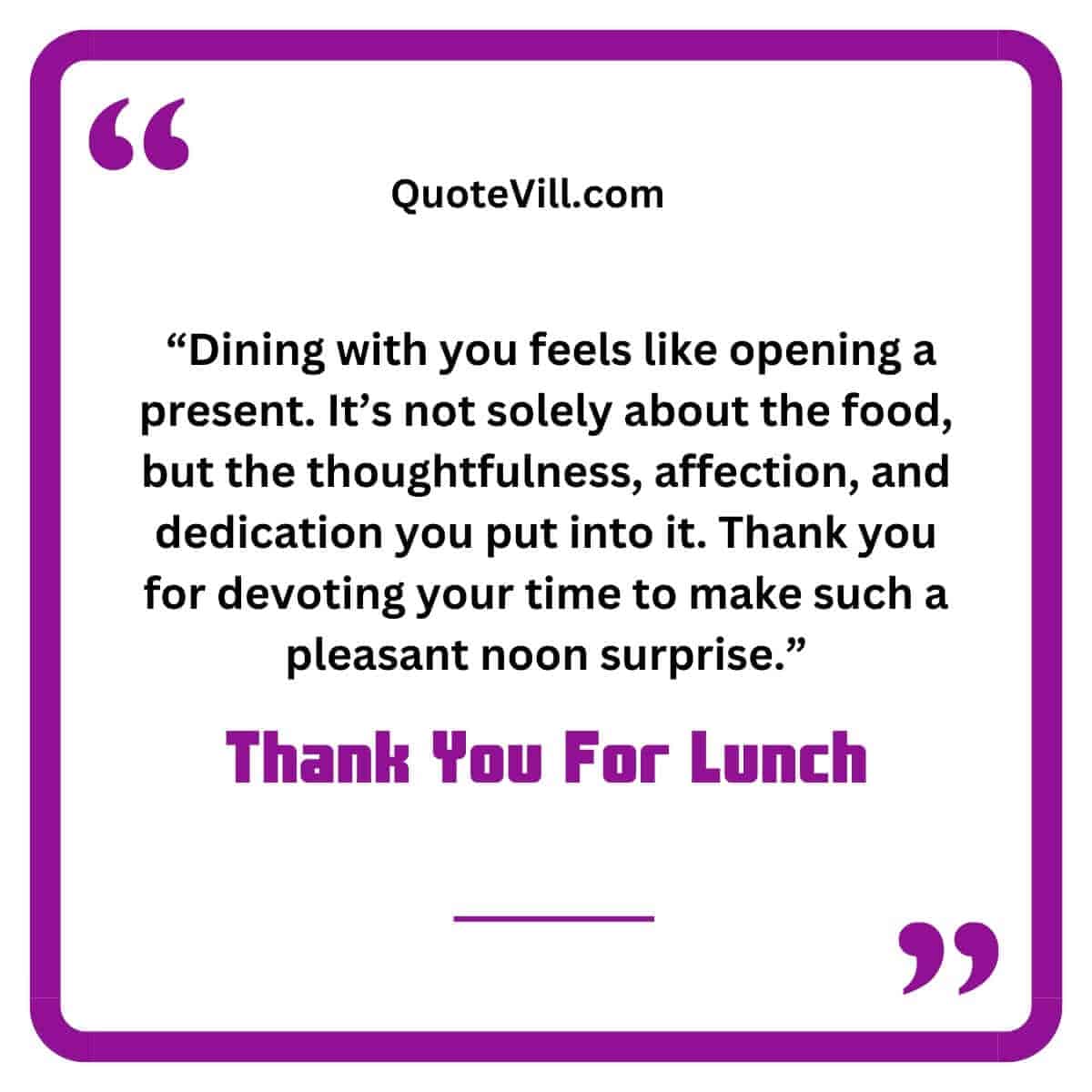 6. "The lunch you crafted was not only a delight to my palate but also a balm to my spirit. Your big-heartedness and kindness radiate in every detail, making each morsel significant. Thank you for the heartwarming lunch."
7. "You turned an everyday lunch into a feast of companionship and warmth. I can't express how much your effort meant to me; it genuinely warmed my heart. Thanks for transforming a simple meal into a cherished moment."
8. "The lunch was remarkable in every way. Every taste was a reminder of your kindness and thoughtfulness. It was more than a meal; it was a gesture that will linger in my memory. Thank you!"
9. "I'm still reminiscing about the delightful lunch. The dishes were mouthwatering, and your company was the icing on the cake. Thank you for the memorable experience."
10. Applause for you, for the delightful lunch and your amazing hospitality! Both the taste and the jovial moments we shared were memorable. Here's to many more such wonderful experiences!
Read: 30 Heartfelt Thank You Messages for Anniversary Wishes
Saying Thank You For a Business Lunch
1. "Thank you for the lunch today. Our discussions were as fruitful as the meal was delicious. I'm grateful for your time and the insights you shared."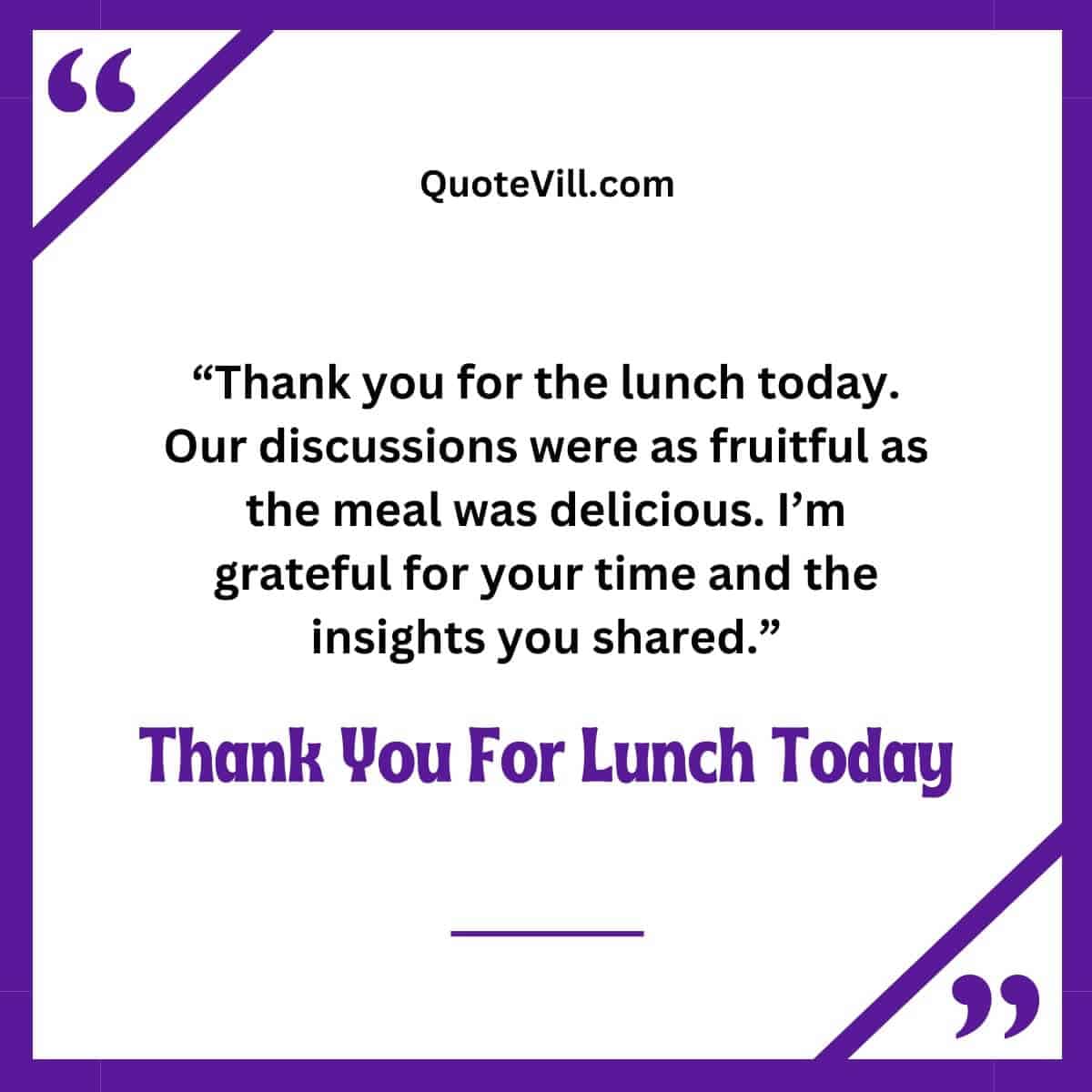 2. "Thank you for taking the time to share a meal and your insights with me today. The exchange of ideas over lunch was as satisfying as the food itself."
3. "What a fantastic lunch that was! Thank you for your hospitality and the engaging conversation. I always come away from our meetings with fresh perspectives."
4. "Just wanted to express my gratitude for the business lunch. Your insights, coupled with a delicious meal, were much appreciated. Looking forward to future collaborations."
5. "Thanks for the delightful business lunch. It was the perfect mix of good food, good company, and great conversation. I genuinely appreciate the experience."
6. "Our lunch meeting was both delicious and insightful. I truly appreciate the opportunity to learn from you over such a tasty meal. Thanks again!"
Read More: 35 Unique Thank You Messages For Gifts To Express Gratitude
Thank You Message For the Lunch Invitation
1. Hey there! Just wanted to take a moment and extend my warmest thanks for inviting me to lunch the other day. That Mediterranean platter was something out of this world, my friend! Can't wait for another round of laughter-filled stories over delicious food.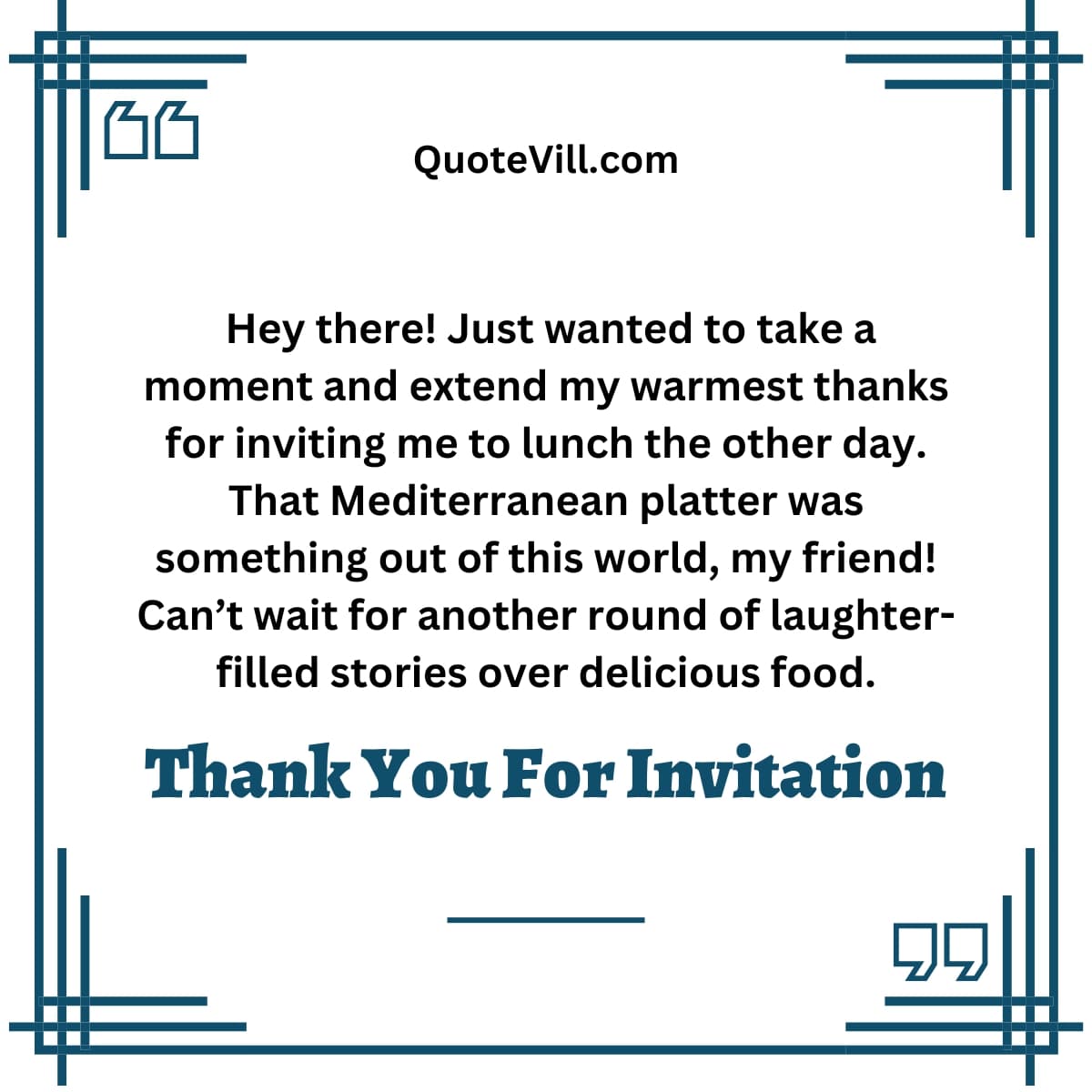 2. A big, hearty thank you for inviting me to lunch. Your homemade lasagna? That was pure magic on a plate. The conversation was even better. Until our next culinary adventure, my friend!
3. Hey! Just sending you a big bear hug and a thank you for that delicious lunch invitation. Your home-cooked meals always hit the spot just right, and our conversations have a way of making the world feel a little bit smaller.
4. My dear friend, I just wanted to sprinkle a little thank you your way for the recent lunch invite. Your homemade chicken curry really warmed my heart and our conversation warmed my soul. Until we meet again on the culinary battlefield, my friend!
5. Hi! Just wanted to send a wave of gratitude your way for that lovely lunch invitation. Your vegan taco bowl was an explosion of flavors and your tales were an explosion of laughter. Eagerly waiting for another hearty lunch together!
7. Hello, amigo! Thank you for the delightful lunch invite. Your sushi-rolling skills are off the charts and our conversations roll just as smoothly. Can't wait to share another sushi platter and a bucket full of stories with you.
8. My friend! I owe you a big thanks for the recent lunch invite. Your ratatouille was a tasteful ride to France and our talks, a trip down memory lane. Until our next food adventure, my friend!
Take A Look: 80 Creative Thank You For Being In My Life Quotes And Messages
Thank You For A Wonderful Lunch Messages
1. You've done it again, haven't you? That lunch was like a flavor fireworks display, and your company was the perfect soundtrack. Thank you for turning an ordinary day into a culinary carnival!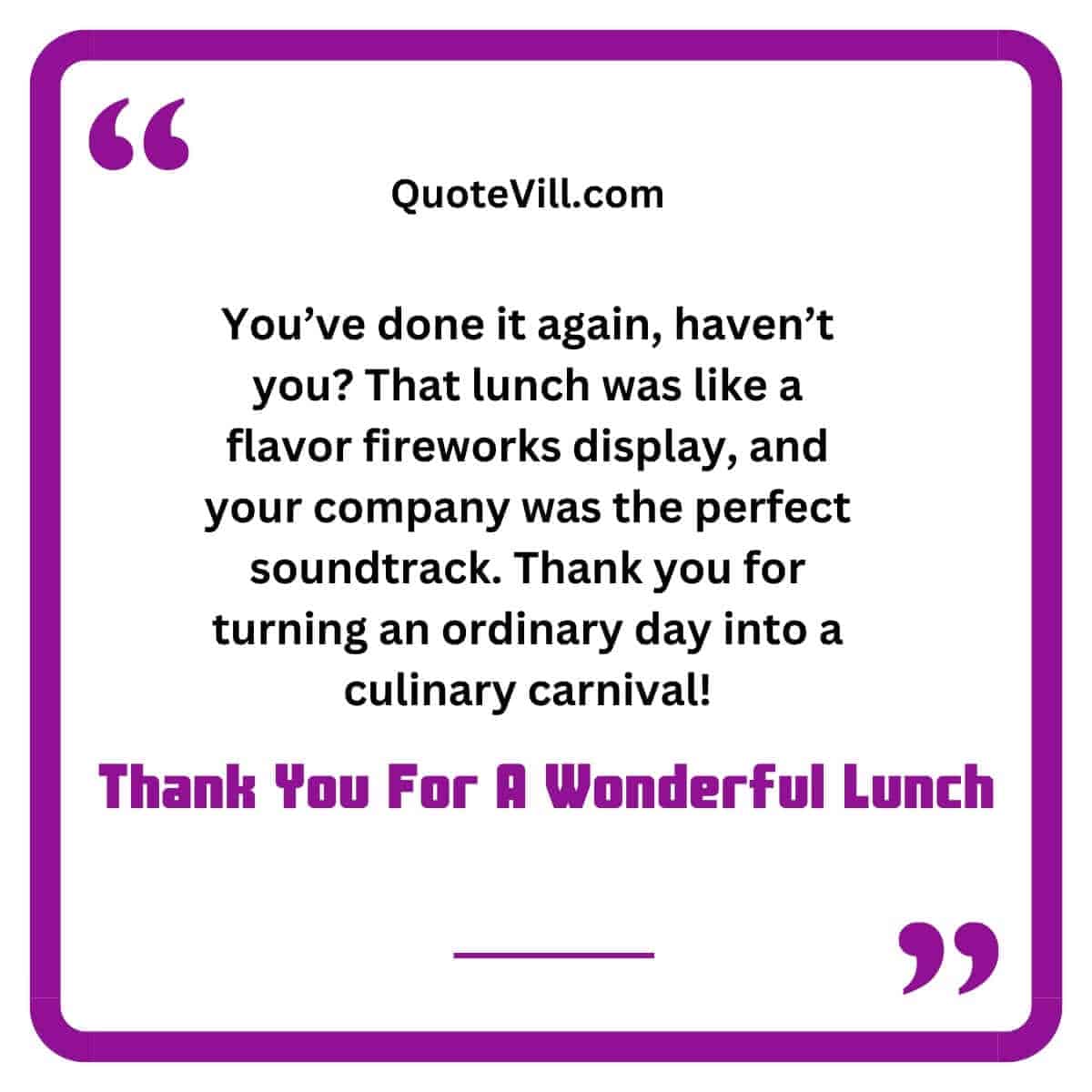 2. Cheers to you for hosting such a fantastic lunch! The taste of your cooking was amazing, and your company was equally refreshing. Thanks for the food and the fun!
3. I can't decide which was more enjoyable – your scrumptious lunch or your sparkling conversation! Either way, it was an afternoon well spent. Thank you for the fun-filled foodie adventure!
4. I'm still reveling in the delight of that wonderful lunch you prepared. It was more than just a meal – it was a foodie's dream coupled with delightful banter. Thank you for your hospitality and your great company!
5. "Thank you for the lunch treat. It wasn't just a meal, but a journey of flavors and a celebration of friendship. Your hospitality and kindness touched my heart.
6. "A massive thank you for the wonderful lunch. It wasn't just about the great food, but the shared laughter and stories made it special. Truly appreciate your gesture."
Thank You Message For The Lunch & Hospitality
1. I can't help but appreciate the delicious lunch you hosted! Each bite I took was a savory delight, and your inviting nature made me feel right at home. You truly are the host with the most!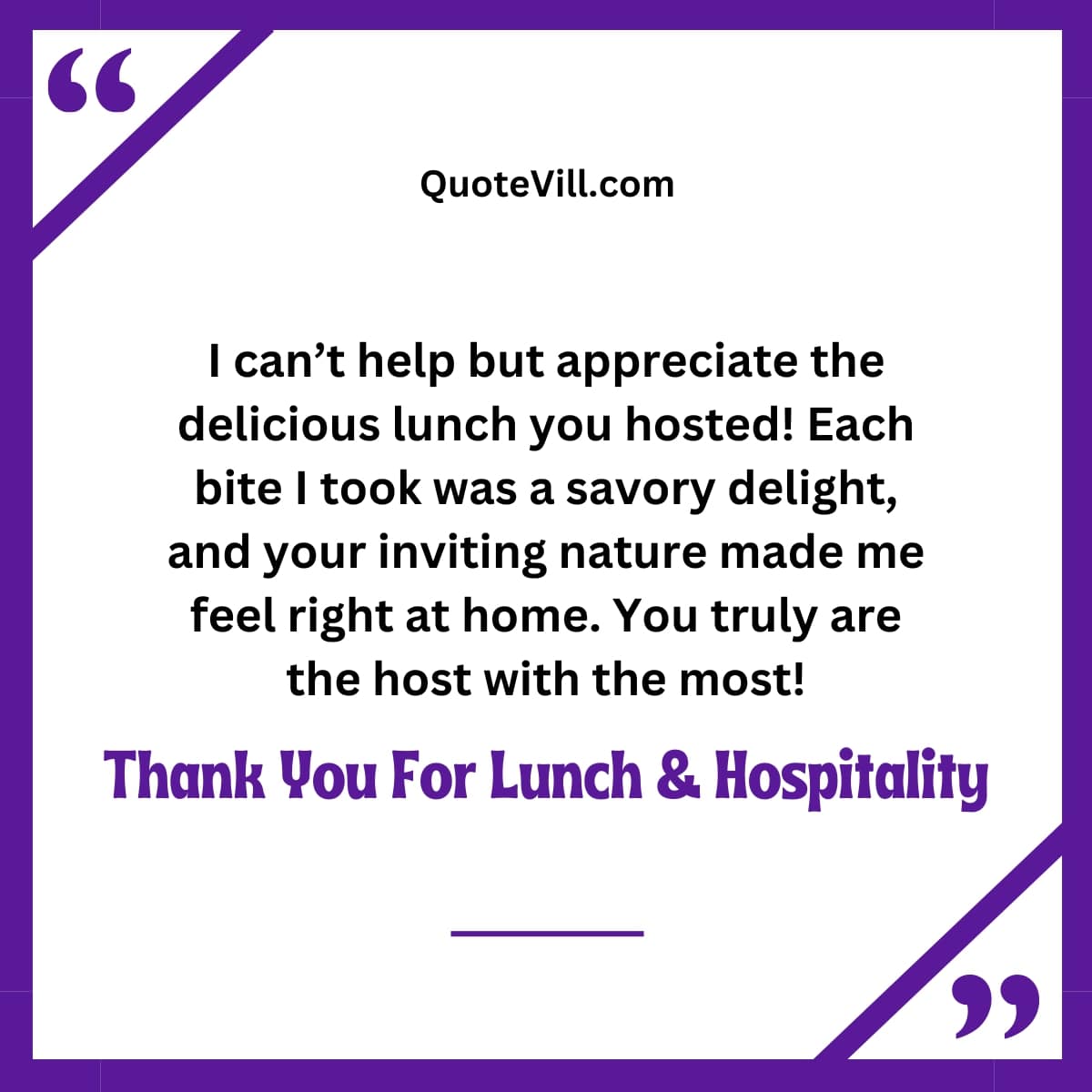 2. I just had to drop a note to thank you for the fantastic lunch. Your menu was an absolute hit, and your kindness was the icing on the cake. What an unforgettable day!
3. Honestly, words fall short to thank you for such a tasty and enjoyable lunch! Your warm welcome was as comforting as the food was satisfying. You really know how to host!
4. I'm still reminiscing about that lovely lunch! Your warm-heartedness was the secret ingredient that made an already delicious meal even better. Thanks for treating me so well!
5. A huge shout-out to you for hosting such a splendid lunch! Each bite was a flavor-packed delight, and your warmth amplified the entire experience. You're truly a class act!
6. The kindness you showed during the lunch left a deep impression on me, just like the sumptuous food did! Thank you for creating an atmosphere that was just as inviting as the meal.
7. That was a fantastic lunch! Your cooking skills paired with your warm welcome made it a feast to remember. Hats off to you, the superstar host!
8. I can still taste the delicious lunch you prepared while your hospitality warms my heart. Thanks for offering such a wonderful experience.
9. Thank you for the delightful culinary journey! The food was fantastic, and your company was even better. Your hospitality truly took the experience to the next level.